First we would like to start by wishing you all a Happy New Year!
Year endings as well as year beginnings give us the opportunity to think about the past year (and the year to come). What were the most talked-about Crowdynews-related topics of the year? What were our personal highlights? As we speed into 2016, some predictions for the year already feel old. There's no doubt it will be another interesting year for publishers.
But for now, join us in a journey through 2015.
January: Series A Funding
In the beginning of January we announced that we had raised €2,5 million in funding. Wow! This Series A round was led by INKEF Capital (from the Netherlands) and joined by co-investor Singapore Press Holdings (SPH) through its New Media Fund.  We used the funds to continue our rapid global expansion: expanding into the US market by opening an office in Boston, growing the global team from 45 to 60 people with some impressing new hires and investing in making our products even better for you. What a way to start the year!
July: 1.5 Billion Monthly Pageviews
Halfway through 2015 Crowdynews reached a new company record: we've reached over 1.5B pageviews. This means that our widgets are viewed 1.5B times by readers globally each month. With partners all over the world, there is an extensive reach. From the US to Asia and in between: you would fit right in no matter where you're based. Milestones like this call for a celebration and so we did, champagne at the office!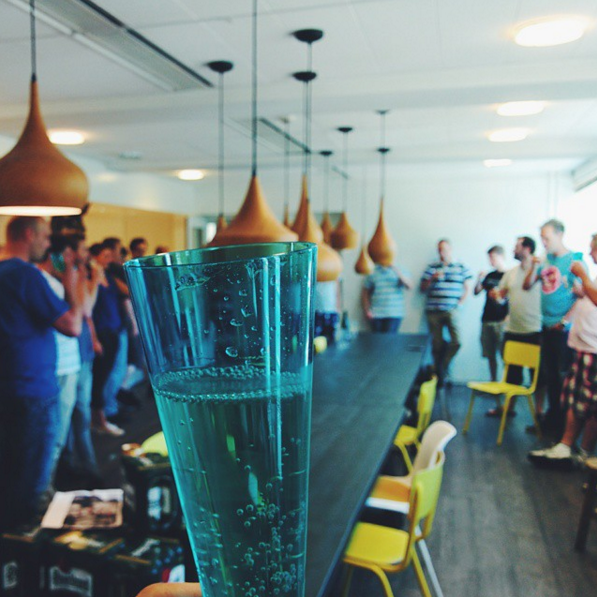 August: Opening a Boston Office
In August of last year we opened our first office outside the Netherlands, in Boston, Massachusetts. For publishers based in North America, you are now closer to Crowdynews than ever before. We therefore hope to welcome you in our office soon. We would love to hear your thoughts on the challenges you are facing and how we can help. It's very exciting to have a US office, which is a great step forward.
Crowdynews on Twitter
Every second, on average, around 7,000 tweets are tweeted on Twitter which corresponds to over 420,000 tweets sent per minute, 600 million tweets per day and around 220 billion tweets per year. Crowdynews tweeted a lot over the past year as well, providing you with valuable industry news, tweets about publishing and new(s) media and of course interesting news about the company. The tweet that gathered the most impressions was our tweet about the opening of our Boston office. Turns out: we were not the only ones that felt excited about opening an office in Boston.
Whooo, cool stuff, right? 🙂 Crowdynews opent vestiging in Boston http://t.co/JjHwCLwumk via @NUnl

— Crowdynews (@Crowdynews) July 22, 2015
The tweet that gathered the most engagement on the other hand was the one where we promoted SocialSonic, an app we created in cooperation with Dagblad van het Noorden for the Eurosonic/Noorderslag festival. It gathered over 8000 impressions, and with that reach we managed to increase downloads for the app as well.
#ESNS15 tonight? Find all things social: http://t.co/eeZOBOlxSj! Connect w/ your friends, see what gigs they're at & what they think of 'em.

— Crowdynews (@Crowdynews) January 15, 2015
Product Updates
With these 8 new languages several customers went live during 2015: Arabic (France24/ar), Bulgarian (Blitz), Hindi (Aajtak), Lithuanian (15Min), Serbian (24sata.rs), Slovene (Zurnal24), Turkish (Fanatik) and Tamil (OneIndia).
For the Article Engager in particular we've added Danish, Hindi, Marathi, Chinese, Korean, Japanese, Turkish, Bengali, Czech, and Malayalam language support.
Pretty amazing to see that our products are being used all over the world. Is your language not on this list? Not to worry; we already support over 25 languages. We're always improving and working on new language support.
Customers Report Improvements in Traffic, Engagement, Revenue
Do you want to see your revenue go up and increase engagement for your readers? Our customers have reported significant changes in traffic to their sites, higher engagement rates and more revenue. To top off this amazing year we've gathered some of this great and valuable customer feedback which we processed into three beautiful case studies for you to have a look at.
Sport Scores with FC Barcelona Fans
15Min Opens the Social Media Gates
NewsMe Hits a Revenue Home Run with Crowdynews
Thank You
A big thank you goes out to our team: all of this wouldn't have been possible without the efforts of the global Crowdynews team. We have a mutual focus for success and for 2016 we continue to aim for more of these successes. This year we continue to help you engage more with your audience, and to help you drive extra revenue.
2016 is set to be a fantastic year with a range of innovative and insightful product updates brought to you by Crowdynews. More exciting news for 2016 to come. So stay tuned!