One Stop Shop for Social Media
NewsMe, based in Sweden, manages niched sports websites. The organization's mission is to keep sports fans, from Sweden and all over the world, in tune with sports events taking place around the globe. The NewsMe team was looking for ways to engage their current readers as well as attract new ones, and make more revenue at the same time.
As a pure online publisher, NewsMe is constantly looking for opportunities to drive traffic to their site, and once they've done so, keeping readers on their sites for longer. They know that keeping readers on their sites means having the most up to date content on current events. Finally, they want a better way to monetize their international traffic. NewsMe engaged with Crowdynews to help them address these goals.
"We think it's important to stimulate our readers and to make our sites a one stop shop for social media news", said Peter Sibner, CEO of NewsMe. "We believe social media is needed to spread the word".
Finding the Social Voice
NewsMe specifically chose to use the Crowdynews Breaking Burner product. Breaking Burner runs alongside website content and pulls social content that is related to a specific topic, in this case sports, from sites such as Twitter, Instagram, YouTube, Vimeo and more. NewsMe's readers get to read opinions, videos, pictures and other social content related to the (sports) topic of their choice.
Crowdynews uses advanced technologies such as natural language processing and artificial intelligence to achieve over 90% relevancy rates for the social content that's displayed on a publisher's website. The technology monitors social media feeds, then collects the most relevant posts, and runs them in real-time. The crowd's perspective from around the world give NewsMe's sports websites new social life. The NewsMe websites that include Crowdynews' social content curation are: www.fotbolldirekt.se, www.hockeysverige.se, www.basketsverige.se,www.hockeyettan.se, www.elitefootball.com, and www.eliteprospects.com.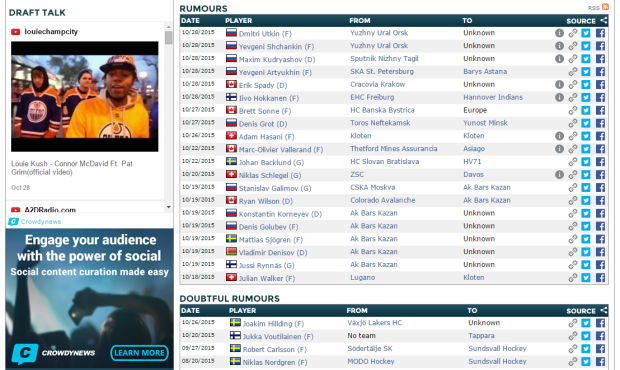 Looking for ways to monetize international traffic and increase social presence, NewsMe quickly realized results with the help of Crowdynews' social media curation platform. NewsMe's key objectives for the project included increasing social presence on their site as well as better monetizing their international traffic. They report that they were able to achieve both with their Crowdynews implementation.
"We've created a nice social flow on our sites. Our revenue from international traffic increased about 20% when we started using Crowdynews. Results have been great so far; we're very happy," said Sibner.
Interested in working with us?