The impact of social media on sports has grown exponentially. In fact, it's safe to say the two have become inseparable. Sports without social media is like Jason Day without his golf clubs or Usain Bolt without his running shoes. Waiting until the evening news or the morning newspaper to find out how a favorite team performed feels like ages ago. Almost every athlete, team, and sports association has multiple social accounts (Facebook, Twitter, YouTube, Instagram, and more). And the fans love it.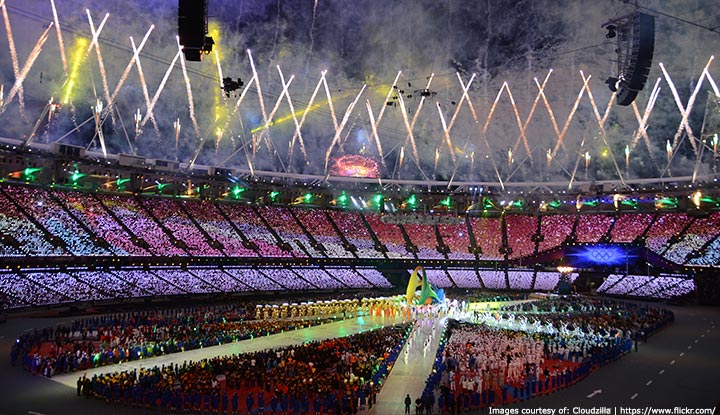 According to a 2014 Nielsen report, 50 percent of all tweets about TV broadcasts – a total of 492 million in the US – were about sports events. In addition, 12 of the top 20 most-tweeted-about TV broadcasts during the same year in the U.S. were sports-focused. Navigate Research found that 63% of sports fans use social media as a key source of sports information. Moreover, 67% are likely to use Twitter while they are watching a sports event compared to non-sports fans. Twitter is basically the virtual sports bar for fans to go to before, during, and after the game.
A perfect example was the 2016 Super Bowl in the US. According to Nielsen, it was the top sports event for social media engagement. The Super Bowl generated more than 25 million tweets that reached 16.1 million people. In fact, the Denver Broncos not only won the Super Bowl, they also won the "Twitter game." They were mentioned 1.5 million times in comparison to the "only" 1.2 million mentions of the Carolina Panthers. In the UK, Leicester City's bizarre, unexpected Premier League victory caused a social media explosion. The players went crazy when rival Tottenham was unable to beat Chelsea, granting Leicester City the cup. A video of the players' reaction went viral on social media and everyone joined the party including world leaders (David Cameron) and top artists (Adele), resulting in 5.5 million tweets sent on Monday after Leicester won the title.
Many congratulations to Leicester. An extraordinary, thoroughly deserved, Premier League title.

— David Cameron (@David_Cameron) May 2, 2016
Such a large number of posts makes it clear that a sports event doesn't just take place in the stadium. In addition to the fans in the stands, people from all over the world can virtually attend any sports experience sharing opinions about how the athletes are performing as well as how the refs are calling the game. Whether the fans are at the game or streaming it, they observe what's happening on the field and then tweet, retweet, share, post, and like, becoming citizen journalists.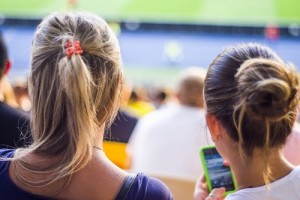 So, why is there such good synergy between sports and social media? According to research by Synergy, in conjunction with Loughborough University, fans who are not at the event want to feel like they are there – by consuming content and actively engaging with it. They concluded that millennial sports fans prefer a broad selection of authentic content. That clarifies why millennials favor content from teams or athletes directly as opposed to content from brands (brands are not the direct source of information and might even use the information for promotional purposes). Fans just want to be "on the playing field!"
Also, sports clubs are accelerating the use of social media as they realize its potential. For example, the motor racing Formula E Championship for electric cars uses FanBoost to vote for a driver to receive a power boost in a race. According to Alexandro Agag, CEO of Formula E, this technology enables fans to have a real impact on the results of the race. In turn, Formula E uses FanBoost to engage in a dialogue with the fanbase.
Needless to say, social media has a great impact on the sports industry. It's an inexhaustible source for fans to receive the latest news, personal messages from popular athletes, and get involved in discussions. Social media accelerates the number of ways fans can engage and interact with their favorite teams, players and other fans. It brings fan engagement to a whole new level and will continue to do so in the coming years.
For many sports publishers however, the ever increasing power of social media simultaneously brings major challenges and even threats to the table. An increasing share of total website traffic comes from social. However, most of these "social visitors" return to social shortly after arriving on the publishers' site – increasing bounce rates and drastically shortening time on site. The growing dependency on social traffic supercharges the power of these platforms, while it does not directly benefit the publisher.
At Crowdynews we believe that your audience is more valuable than the platforms it uses. Leverage the power of social instead of suffering from it. How? By adding the social conversation to yóur site using social media curation. It provides your (social) visitors with a warm landing, and enriches your editorial content with highly relevant social content – keeping your readers on your site longer. Social media curation helps publishers take back control.
Would you like to learn how to include fan conversations with your content? Have a look at a real live example stream about the Olympics, or download our eBook for more information.