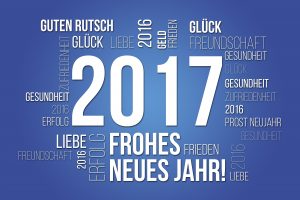 As 2016 winds down and we look towards the new year, I can't help but reflect how 2016 seemed like a monumental year on so many planes. Certainly, two of the most talked about topics in 2016 were politics and death.
The most impactful event in 2016 was, hands down, the US election and results of two European referendums. In the summer of 2016 US citizens nominated two of the most unique candidates in history – a woman and a reality TV star/business man. From there, the country embarked on a frank, and sometimes troubling, discourse about the American political system and how to solve the country's issues. In fact, Americans are still reflecting on the election and how we will move forward as a country. But, the US was by no means the only country where major change is underway. Both the United Kingdom and Italy held referendums in 2016 that will have a significant impact on how the respective governments and the European Union support their people. According to a recent article published by the BBC, "The Institute for Public Policy Research (IPPR) said there would be a Brexit "aftershock" and that the UK's exit from the EU would be "the firing gun on a decade of disruption." Following Italy's December "No" vote and the resulting resignation of PM Matteo Renzi, Italy's future is in question as well.
In addition to shaking up major governments, it feels like we lost an abundance of celebrities, artists and leaders in 2016. From Fidel Castro to David Bowie to Antonin Scalia to most recently, Debbie Reynolds and daughter Carrie Fisher of Star Wars fame. Many of the deaths were unexpected – Prince – as well as tragic – Christina Grimmie – a YouTuber who was shot during a concert. For a complete list, check out a recently published chronology by NBC News. On a humorous note, a South Carolina man has started a Gofundme page to protect Betty White, 94, from the grim reaper. The goal is to raise $10,000 to defy the Fates. The last time I checked, $1700 had been pledged. All monies will be donated to the Spartanburg Little Theater.
To check out more 2016 highlights and lowlights, please see the 2016 Year in Review by Crowdynews social stream.
Contact Crowdynews for more information about how to include a social stream on your website.