It's the most wonderful time of the year: Christmas!
With social media networks attracting millions of users every day, there is this endless opportunity for publishers and/or brands to build customer loyalty, engage with fans and maintaining their online relationships. What better time to truly make the most of this than at Christmas, when people are full of holiday spirit?
Rather than just using a "Merry Christmas" hashtag for a tweet or taking selfies by the office tree, people are pushing the boundaries of creativity to spread their holiday messages every year. You need to be super creative to grab your reader's attention. So why not gather all social media content related to Christmas in one overview? We've created a demo (see screenshot below) for you to have a look how we display only relevant social media content around the Christmas topic. This example displays the most trending Christmas content of a couple of well-known websites.
Publishers already using can contact [email protected] to get one or more of the ready-made topics in their own existing or newly created widgets. If you're new to Crowdynews and want to learn more contact us at [email protected].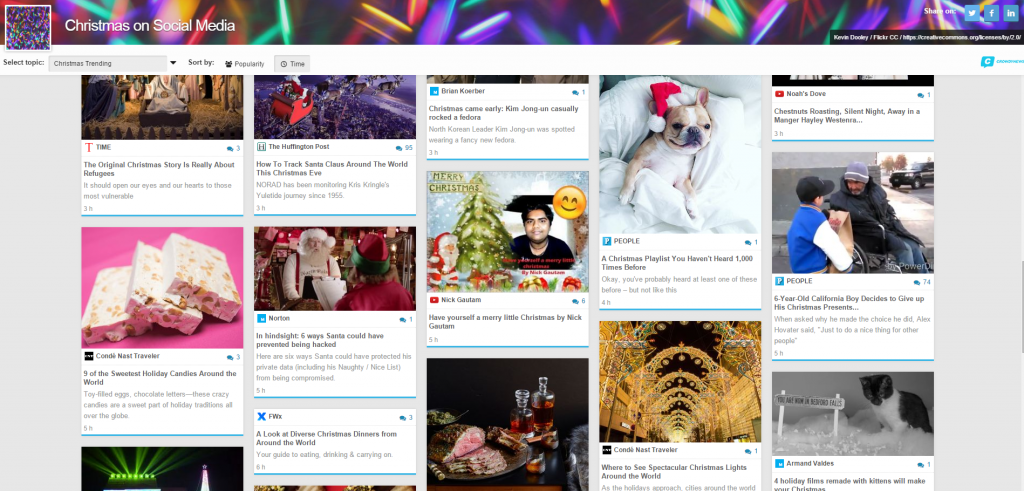 Crowdynews completes stories for every publishers' website, from news to special interest, by adding real-time social media content. Are you looking for ways to incorporate social media content into your editorial content or to cover an event? Do you have ideas for how you would like to use social media to your advantage? Let us know, we're always happy to chat with you and see how our social media curation tools can help you.
Happy Holidays!