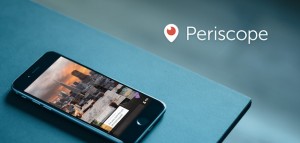 In this two-part series, we look into some of the trends in digital publishing of the past year. In the previous part, we took a closer look at new distribution platforms for digital publishing and the increasing role mobile is playing in our daily lives. In this second, and final, part we will look at video content and live streaming in particular and look back at ad blocking.
Video content on the rise
2015 saw not only the rise of mobile, but also the rise of video content, driven in large part by social media. Facebook generates 8 billion video views per day, doubling from 4 billion in April, and Snapchat's daily video views tripled from 2 billion in May to 6 billion in November this year. Twitter also stepped up its game with video by making videos play automatically by default and its acquisition of Periscope, that is loved by brands too; Google introduced YouTube Red, a paid subscription to watch (music) videos without advertisements.
This year we were introduced to a new category of apps: live streaming apps. While they existed before, they have become really mainstream this year. At first we saw the introduction of Meerkat, touted by TechCrunch as "the livestreaming app Twitter should have built" and one of the promising new startups at annual tech festival South by Southwest. Twitter followed a few weeks later with the launch of Periscope, which it had acquired in January. Although Meerkat was in the lead initially, Twitter's support for Periscope really paid off. On launch day an explosion took place in New York City and one bystander was livestreaming the events on Periscope seconds after. Although tragic, this is probably what the folks at Periscope had hoped for in terms of adoption of the new app.
Facebook was already working on a way to let public figures livestream their experiences, but waited until August to introduce the new feature to the public. Initially it became available to only verified persons or VIPs but late this year the company decided to let everyone use the live streaming feature from their Facebook app. Following its acquisition of virtual reality startup Oculus VR in 2014, Facebook also introduced another new format this year: 360-degree videos which are available to both media companies and consumers. The company is also testing 360-degree ads with a number of advertisers.
Ever wanted to surf in Tahiti? Now you can with this immersive 360 VR experience directed by Taylor SteeleVideo #SamsungGalaxy Samsung Mobile / Rapid VR

Posted by World Surf League on woensdag 28 oktober 2015
Many publishers, journalists and brands are now using Periscope to livestream events, with some of them even creating their own alternatives. For instance, biggest Dutch news website NU.nl will launch their own livestreaming app (article in Dutch) early next year. It enables users to livestream events in their vicinity and allows the publisher to broadcast them directly to people who visit the website or use the apps.
For publishers, these new developments are creating both challenges and new opportunities. On the one hand, they see themselves becoming more dependent on companies like Facebook and Snapchat, especially when they also offer their own video content. On the other hand, they have a platform to reach a new audience. They can probably drive more engagement by uploading video content directly on the platform.
Ad blocking has become a bigger challenge for publishers
This year was also the year the ad blocking debate got to new heights, mainly because a new player got involved: Apple. Publishers also started to take action against ad blocking to protect their existing revenue streams. More publishers implemented warnings for people visiting with ad blockers enabled, asking them to switch these off. German tabloid BILD – almost a quarter of German internet users uses an ad blocker – its measures to another level. After sueing Adblock Plus owner Eyeo – to no avail – they decided to completely block users on both desktop and mobile if an ad blocker was being detected. Furthermore, they asked visitors to switch off their ad blockers or to take a subscription instead. It's parent company Axel Springer claims over two thirds switched off their ad blocker and the percentage of visits with ad blockers enabled dropped from 23% to just 'single digits'. The company even took legal actions against people who created walkthroughs to avoid the new blockade.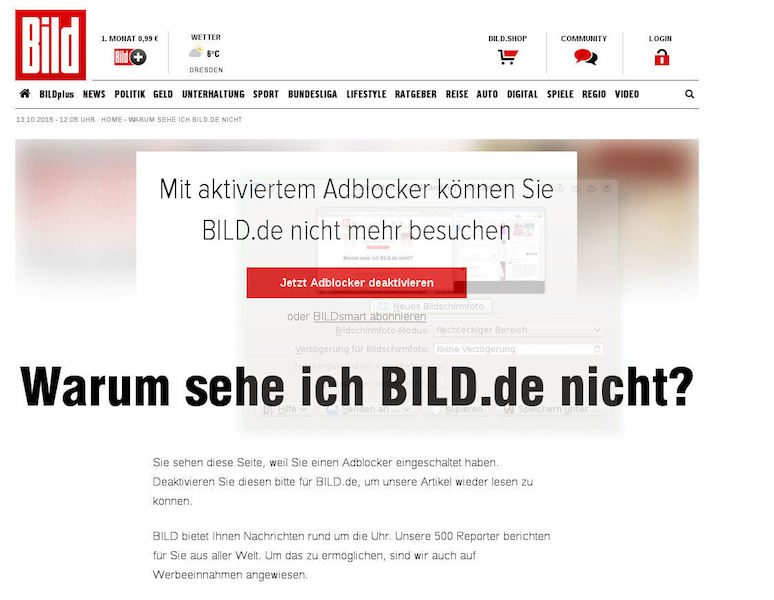 Worldwide 200 million people use an ad blocker on a monthly basis, according to a widely cited study by Adobe and PageFair. About 45 million of those are in the US, which is expected to rise over the coming three months. In Europe, there are about 77 million ad block users. The vast majority (98%) of ad blocking still takes place on desktop, with ad blocking on mobile being significantly higher in Asia, China, and India, mainly due to high use of mobile devices and alternative browsers such as UC Browser which removes ads by default.
There was a lot of debate about ad blocking on mobile too, especially because of Apple introducing support for so-called 'content blockers' in iOS 9 for iPhones and iPads. While they got a lot of traction right after their launch, the buzz seems to have slowed down in the months after. None of the popular ad blockers for iOS are to be found in the App Store's Top Charts anymore. Nieman Lab recently asked around some US publishers and they share the conclusion ad blocking on mobile isn't (yet?) a problem worth noting.
Naturally, ad blockers pose a threat to publishers, and even more if you're operating a gaming or social/tech related website. These types of websites have the highest percentage of ad block users. But it also creates the opportunity to review both the quantity and quality of your advertisements. And why not provide readers with additional relevant social media content to improve reader engagement and time-on-site?
This concludes our two-part review of the past year. Needless to say, 2015 was a year where we saw some big changes for digital publishing. Not only new challenges like ad blocking but opportunities, such as mobile and video, for the years ahead also, especially because many of these trends and developments will likely continue in the next year. For you, it will probably raise questions like, should I bring my content to these (new) platforms, what should I do with video and what does ad blocking mean for me?
At Crowdynews, we not only want to provide you with the tools to include meaningful social media content next to your own content, but also advise you on these new trends. We would love to form a partnership with you to do so. Contact us today for a free consultation.